Nancy G. Allen and her network of women business owners offer up their best guidance on topics like business planning, marketing, scaling your business for growth and more.
In the first two volumes of this three volume series, she explores female executives desiring to leave the corporate world for a legacy of their own and a business owner's decision to scale their business for more growth.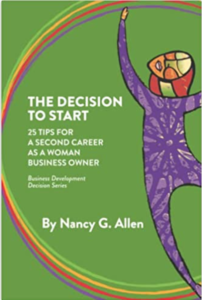 The Decision to Start: 25 Tips for a Second Career as a Woman Business Owner
As an employee, you've often thought to yourself, "What would happen if I ventured out on my own?" Maybe you've allowed yourself to dream about starting a business and being in charge of your own destiny. But the idea sometimes leaves you feeling uncertain and insecure. You're not sure how to do this by yourself.
With this book, you don't have to. The Decision to Start offers 25 tips to help make your journey easier.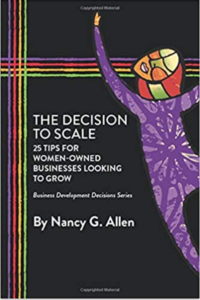 The Decision to Scale: 25 Tips for Women-Owned Businesses Looking to Grow
You've spent the last few years building your business, and now you have a decision to make. Do you maintain your company at its current size, or do you scale it up to create more business, more jobs and more revenue? 
The Decision to Start offers 25 tips to help you take that next step.